Pls download the HSPS V5.1 software manual in website http://www.eloamscanner.com/products-download.html

file name : HSPS V5.1 software instruction

Software video : http://www.eloamscanner.com/eloam-software-video.html

Scan document steps: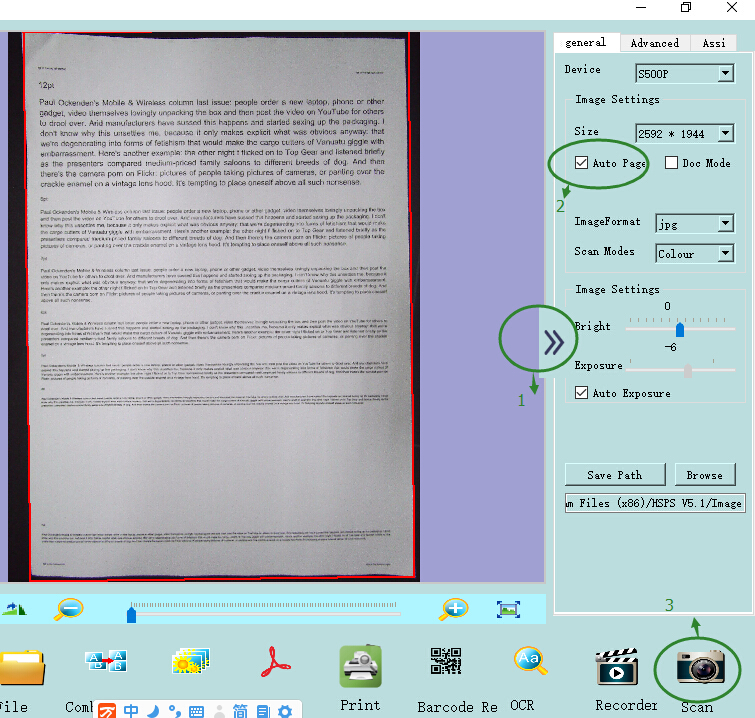 Scan name card steps: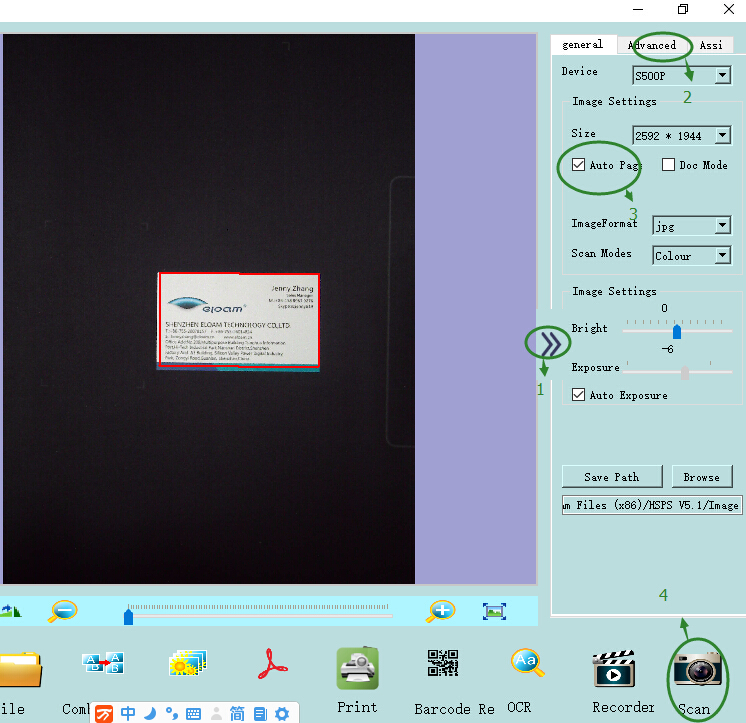 Scan barcode steps :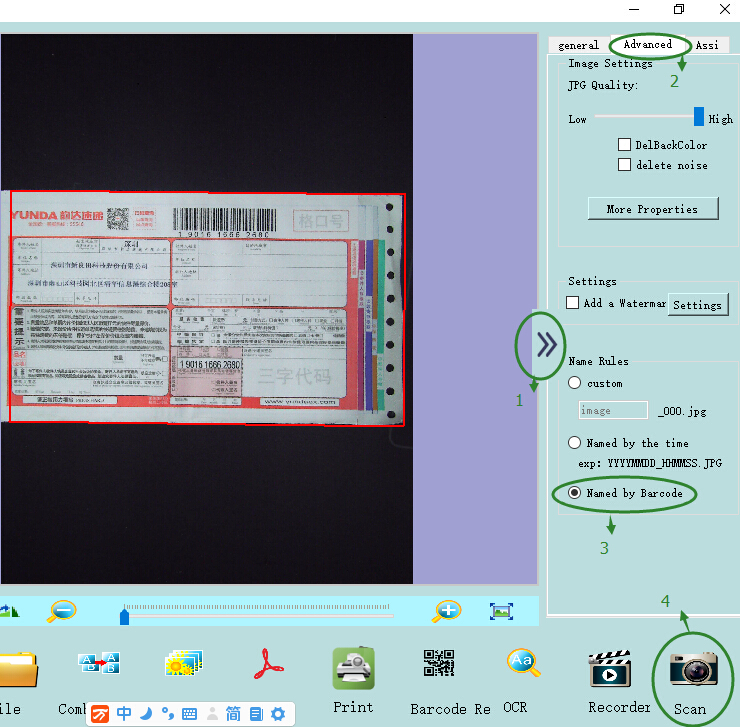 HSPS V5.1 software simple instruction:

1 . Main interface
1.1.1 Interface
Open software: double click software icon[HSPS V5.1] on desktop, or via the path[Start]- [All programmers]→[HSPS V5.1].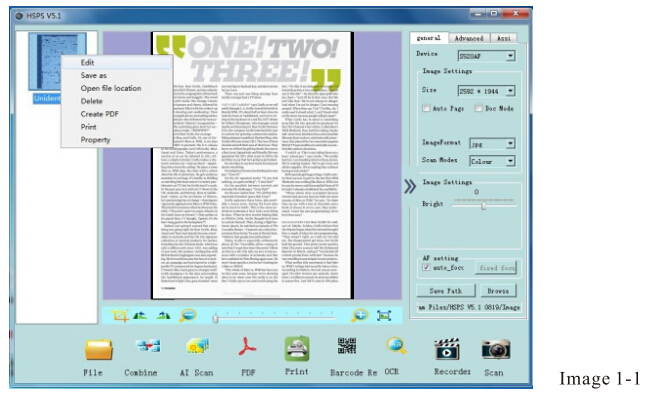 Image Setting
[1] Resolution: support 2592*1944,2048*1536, 1600*1200, 1280*1024,,800*600,640*480,320*240 etc.
[2] Auto_Cropping:
When selected, through automatically correct slanting document and
remove black background of the document to make sure that the scanning
result is consistent with the original document.
How to ensure auto-correction effect, the operating steps see as follows:
(1) Make sure the around of scanning document contrasts significant
with the background,pls use the professional soft mat hard pad(black or grey) to make the paper contrasts with mat background.
(2) When the scanning size is bigger than black pad, click on the button

select the scanning area,may change the red box size by dragging
the mouse.
(3) In order to ensure the corrective effect, please place your document
within the area

.
(4) Please adjust exposure if the result is not acceptable due to reflection
or brightness
[3] File Type: Default for Document mode, click this icon to switch
certificate mode
[4] Image format: Support JPG,BMP, PNG,TIF image format.
[5] Scan Color: to set scanning image color, the options are: color, gray, black and white (the black and white threshold can be adjust udunder that state)
【Advance】
Click right interface advance menu, The detailed operation refer to above image1-2.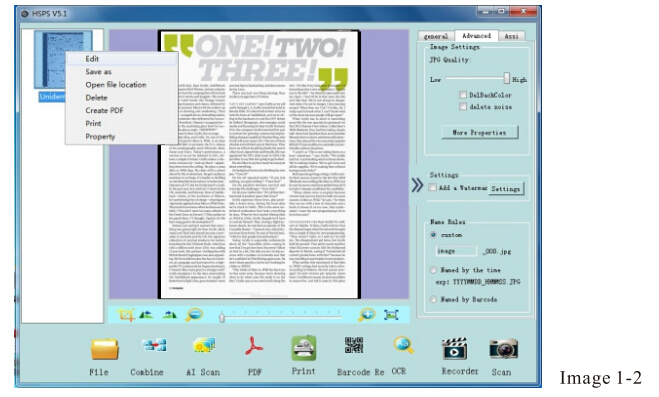 Image Setting
[1]JPG Quality: specify the size of the image quality.
[2] Del Back: delete background color,only show document character.
[3] Remove image noise: Remove image noise and speckle, improve image quality.
[4] Video Propertics: video effect Settings including brightness, contrast,,exposure, as shown in the figure below: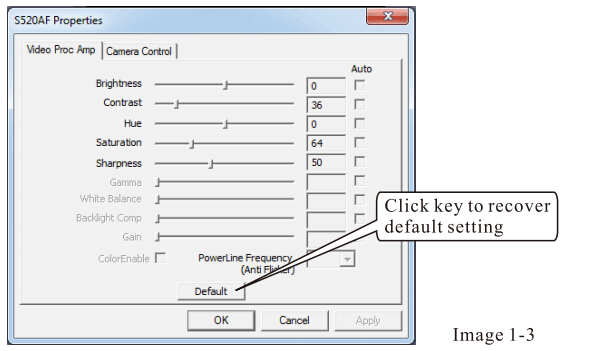 【Bottom tool bar】

① Filc management: including directory management, image edit, screen
recording, Export PDF and etc.
② Image composition: Click left-right compose/up down compose, when
select scanning, it will appear compose image is scanning, pls change to
another one, and then select to be composed image to scanning compose
image sucecss.
③ Auto scanning: image files name by auto increment type, can choose auto scanning or interval time auto scanning and then set the interval time.
The dectail operation refer to image below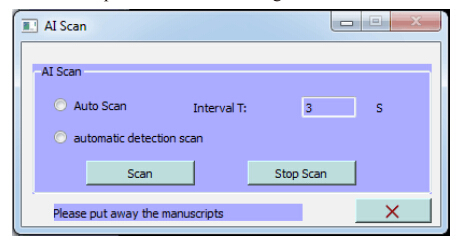 ④ PDF: Change one image into PDF files.
⑤ Print: Print current scanning image when connect printer
⑥ Barcode Recognition: Recognize barcode, supportlD,QR.
⑦ OCR: Recognize images through OCR, and save as word, excel, text format, can be edit document directly.
⑧ Video recording: Provide once video recording tools.
⑩ Scanning: Scan preview images.