To meet the market demand and make the office more portable and efficient, Shenzhen Eloam Technology shock launch wireless WIFI high speed portable document scanner S510W, it not only with the features of WIFI wireless transmission, 5.0 Mega pixel, 1 second scanning, portable and low-carbon, but also with the functions of scanners, copiers, projectors, real shooting, video recording, video communications and so on. It is "new weapons" of the efficient office and high quality teaching.

Eloam high speed portable document scanner S510W can be used in the office industry and education industry. It adopts WiFi module for image data transmission, seamless connection with a variety of devices which with WIFI interface (eg mobile phone, MID, IPAD and so on), wireless output, get rid of the bondage of USB cable.


Features:

1. Wide field of application. Almighty scanning notes, documents, data, and other 3d objects and so on.

2. High speed scanning, 1 second finishing HD 5.0 Mega Pixels scanning

3. Fixed focus mode, fast and convenient to use

4. With 5 high luminance white LED lamps and every lamp built-in 3 LEDs. Controlled by smart touch switch, turn on lights in low light can ensure the normal shooting.

5. Automatic, rapid, accurate, multi-standard bar codes, two-dimensional code identification function.

6. Portable visual presenter, assist preparing lessons and image editing functions, such as text editing, annotation, marquee, mirror, rotate, deskew, cropping, synthesis, 1: 1 printing and so on.

7. Super OCR recognition, can identify 180 languages

Work pattern:

USB connection mode and WIFI working mode ( Turn on the power switch, the indicator light turns green and after start successfully it turns red.)

Connection indicator: In USB connection mode the indicator light is green, while in WIFI connection mode the indicator is red.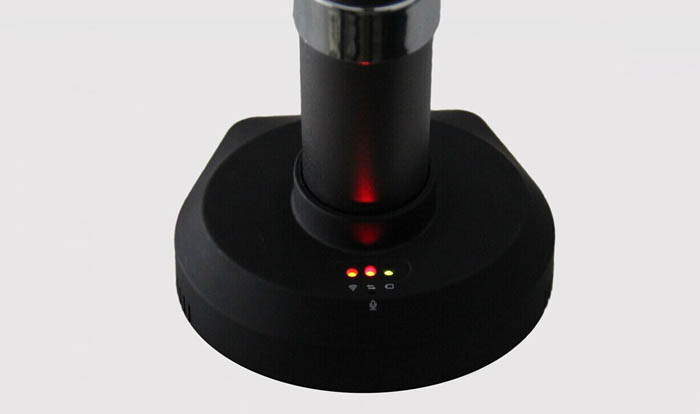 Appearance:

Eloam high speed portable document scanner S510W adopt innovative design, stretchable, up-right and foldable shoot structure, appearance stable, generous and high-grade, not only small and portable, but also low power consumption and saving energy.

In addition, document scanner S510W has many power supply form:

1. USB connection mode: USB power supply

2. Wifi mode: using the battery (1500 mAh battery capacity) and an external 5 v / 2.0 A adapter two kinds of power-supply

It can meet the application requirements of different occasions both in office and teaching.

What's more, Eloam high speed portable document scanner S510W set up anti-theft lock, so that customers can feel at ease to use. Built-in battery in bottom, the battery charge and discharge can manage automatically, and can be controlled by manual switch too.

In a word, as a wireless WIFI high speed portable document scanner, S510W shows its better quality no matter from portable or scanning speed or scanning quality.