(1) High speed portable document
scanner make fast data archiving no longer a problem
High speed portable document scanner for archive medium without too
many restrictions, no matter whether it is photo, credential, paper or 3D
object, scan them all. Meanwhile, users can edit image or conversion format as
their own need. high speed portable document scanner also with OCR function can
archive important information as video and audio formats.
(2) Generate real-time image data, help users demo perfectly.
When display for customers or real-time
analysis of case in a meeting, often need to show some samples and
explanations. High speed portable document scanner can instantly meet the
requirement. And it can record video and
audio according to the objects that need to be showed, then save it and also
can display it with display screen and projector as well.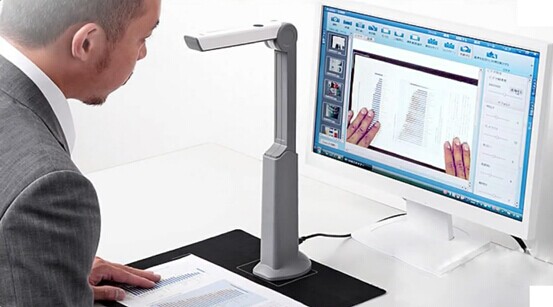 (3) Portable design, subvert the traditional office
Eloam high speed portable document scanner is small and portable, and the foldable design makes it easy to be carried and
put into general briefcase, it will not take up too much space on the desk too.
It is unimaginable for the other traditional office scanners.
(4) Vivid demonstration, wonderful classroom
Eloam high speed portable document scanner
has functions like: physical display, video presentation, micro class making,
lesson preparation and correct wrong answer book quick creating. Enrich the
teaching content and improve the quality of teaching.