With gradually powerful Image shoot, video capture and OCR functions, Eloam document camera operator interface content also becomes rich. In today's increasing demand for high-definition scanning, Eloam high speed portable document camera S1500 can reach 15.0 Mega Pixel, and use USB 3.0 rapid transmission technology, built-in a LED supplement light with 1W high power 360 degree wide angle lens, can adjust brightness levels to meet the needs of shooting in weak light environments.

Meanwhile, document camera S1500 has powerful software function: One click shooting, real-time zooming rotation movement, set the shooting interval, the software automatically timed shooting, fast capture books and files, supports timing shooting and auto shooting, one click to save scanned image into PDF files, can connect printer to print scanned files or send network faxes and email. accurate and fast recognize bar code and QR code, and image editing function.


In addition, Eloam document camera S1500 has the advanced character recognition technology, provide professional and general OCR functions, which support up to 180 languages.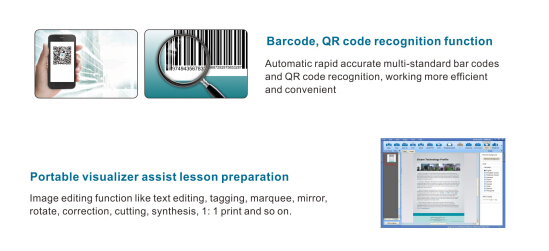 Eloam document camera S1500 applications recommended: government, finance, education, communications, medical and other industries and enterprises, widely used in the paperless office.